Top 20+ Hikes In Arizona You Won't Want To Miss
Arizona is in the Southwest region of the United States, laying just above the border of Mexico and tucked in-between California and New Mexico. This gorgeous state is home to around 200 named mountain ranges which provides adventure seekers with a plethora of hiking opportunities.
While Arizona is home to the famous Grand Canyon, this state holds so much more beauty to be discovered. Not only is Arizona the dream state to visit for many hikers, but this state is also rich in history.
22 Native American tribes call Arizona home. Some of these tribes span back to 12,000 years ago. Artifacts such as manmade doorways in the side of mountains that date back thousands of years ago are found on many of the famous trails laying throughout Arizona.
Today we present you with our absolute favorite 20+ hikes in Arizona, the Grand Canyon State. From the most famous landmarks to some of the smaller hidden gems, you'll definitely want to check out some of these really popular and amazing hikes if you're staying in the area.
Hiking in Sedona, Arizona
Fay Canyon
Fay Canyon is a gorgeous hiking spot within Sedona. The hike through Fay Canyon is 1.2-miles long which will take about an hour and a half to two hours on average to complete.
This trail is ranked as easy on the difficulty scale for hikers, meaning Fay Canyon is perfect for beginners. Entry to the trail is free; however, a Red Rocks Pass or America the Beautiful Pass must be displayed on your car's dash to park.
Fay Canyon gives the best of both worlds providing glorious geological structures as well as beautiful greenery extending into the horizon.
Make sure to find the Fay Canyon Arch to experience one of Earth's few naturally occurring bridges. For those who absorb all the scenery surrounding them, you will be the lucky few to catch a glimpse of ruins from the prehistoric Sinagua People who once inhabited the land thousands of years ago.
Devils Bridge
Devils Bridge is one of the most famous hiking spots known in Arizona located in the city of Sedona. The trail leading to Devils Bridge is a 2-mile hike that averages about two to three hours to complete.
Devils Bridge is ranked as easy to moderate on the difficulty scale. It's perfect for beginner hikers looking for a bit more of a challenge. Whether you pay for entry to the trail depends on where you park to make your way to the naturally occurring bridge.
Parking at Dry Creek Road Trail Parking Lot will require a $5 Red Rock Pass to be displayed on the dash of your vehicle. Parking at the Devils Bridge trailhead will allow you to bypass paying any fees. Parking fills up extremely quickly so get there super early in the morning to snag a spot or later in the afternoon once the crowd rush has quieted down.
As Devils Bridge is one of the most popular tourist attractions in the state of Arizona, there is a possibility that you may have to wait in line to get photos taken. Despite the heavy foot traffic on this trail and possibly having to wait to take your pictures, the view is 100% worth the wait.
Birthing Cave Trail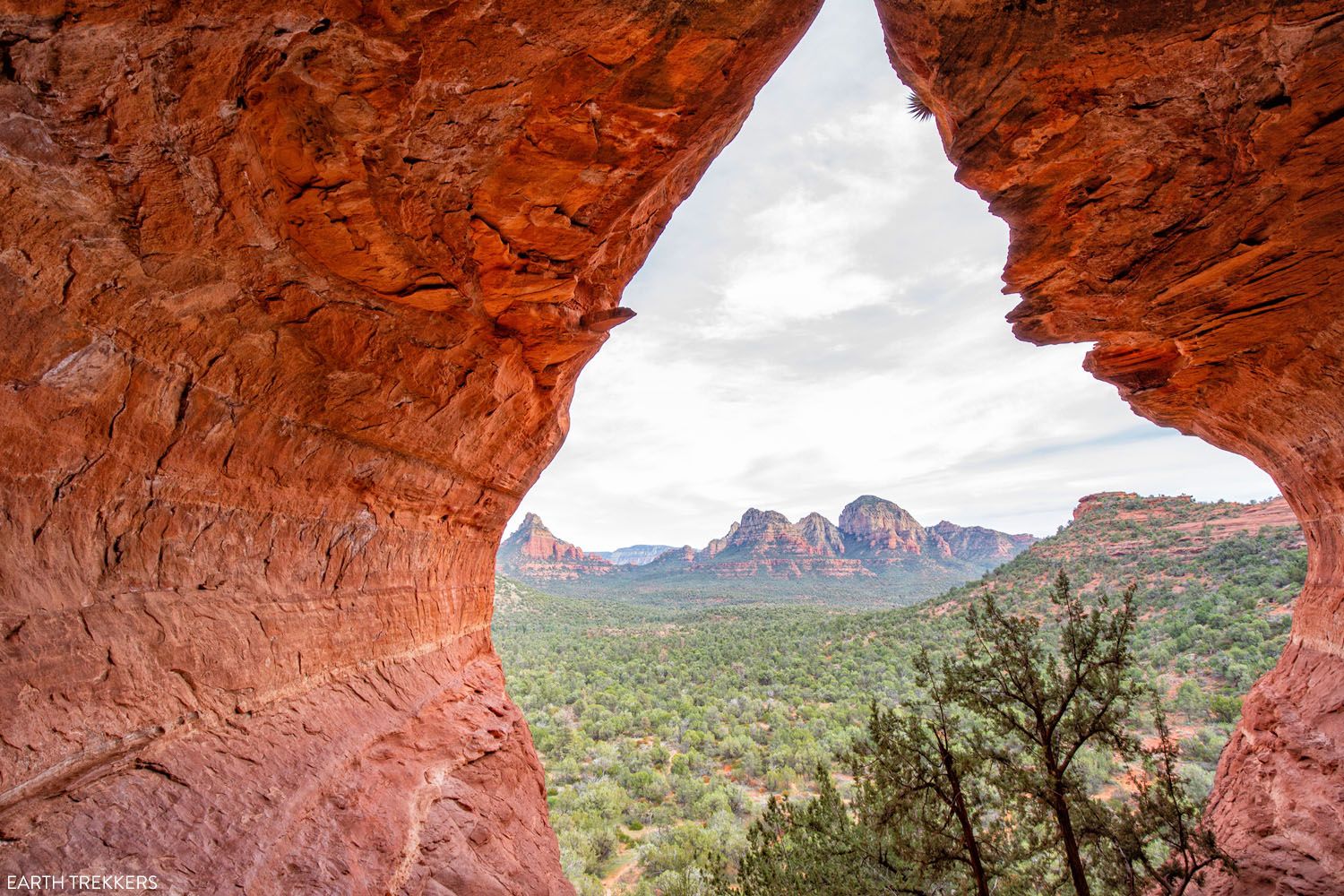 Birthing Cave Trail is a unique hike in Sedona, Arizona leading to a mountain that greatly resembles the female anatomy as the name of the cave suggests.
The trail to Birthing Cave is 1-mile which will take about one to two hours to complete. This trail is ranked easy up until you reach the cave. The trail then becomes moderate to difficult as the cave walls are slippery, and the lower levels of the cave bring you close to the edge.
Hiking to Birthing Cave is completely free! Limited parking is located at the Long Canyon Trailhead so arrive early. Overflow visitors may park on the street, but this is very limited as well.
Pets are Permitted on the Birthing Cave Trail, but they must be on a leash. Peak seasons to visit the cave are in the spring and fall months.
Since it is Arizona, the weather gets quite hot often. Avoid the hottest parts of the day by visiting the trail in the early morning or just before sunset. Legend has it that Birthing Cave got its name from the Hopi people sending women into the cave to give birth.
Cathedral Rock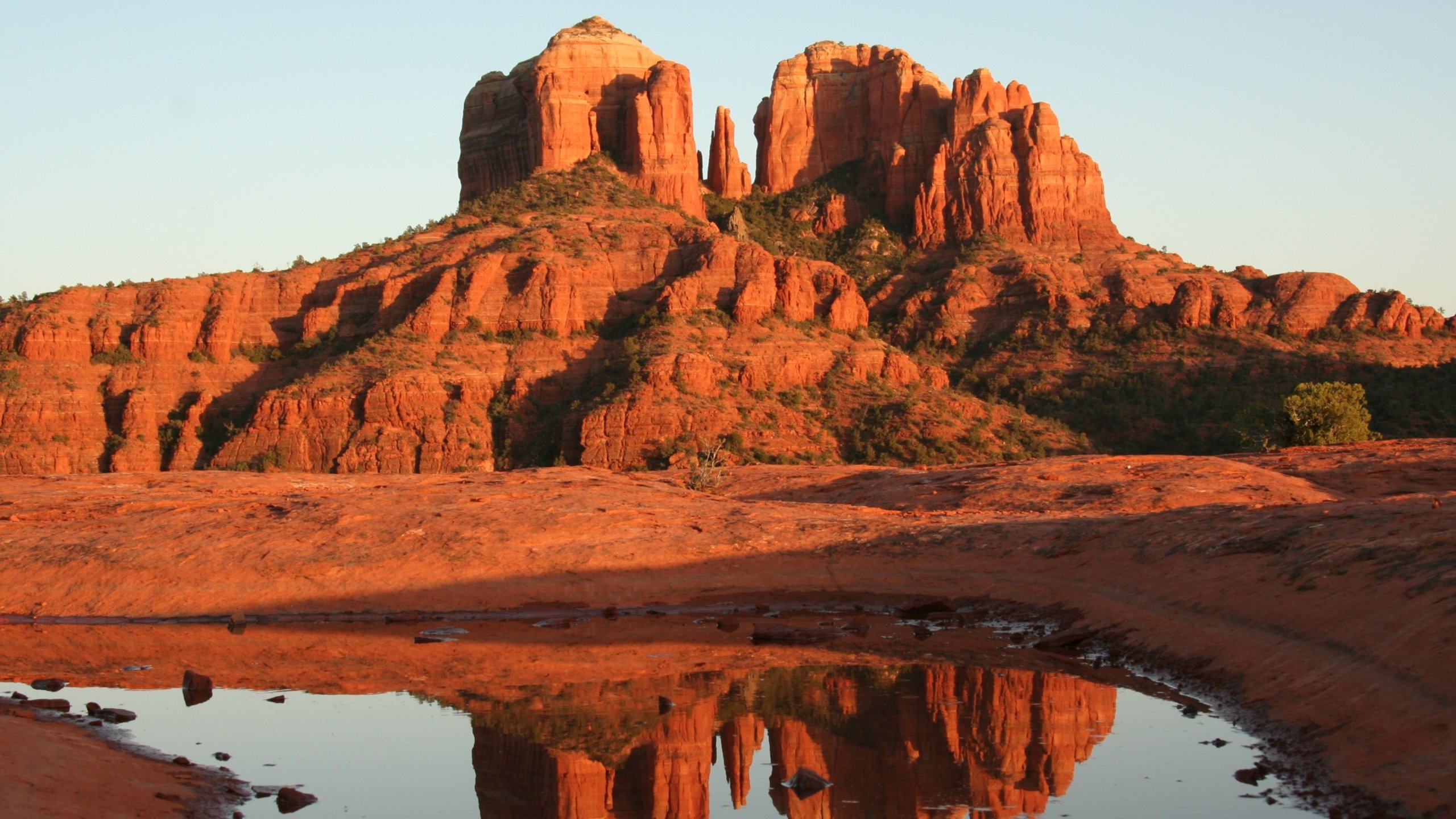 Cathedral Rock is exactly what it sounds like, a unique rock structure that resembles a cathedral. The hike up the trail to Cathedral Rock is a little over a mile that takes about an hour and a half to hike.
This trail is ranked as a moderate hike but has lots of difficult steep sections along the way. This trail requires a $5 parking fee to enter.
Cathedral Rock has very limited parking that fills up extremely quickly as many of Arizona's tourist attractions do, so be sure to get to the parking lot bright and early. Overflow parking is available at the Yavapai Point Parking Lot; however, for those wanting a shorter hike starting here will, unfortunately, add four more miles to your hike one way making the total round trip about ten miles.
Cathedral Rock is pet-friendly, but they must remain on a leash the entire time. Whether you are lucky enough to snag a parking spot at the trailhead, or you must park at the Yavapai Parking Lot, the hike will be worthwhile when you can sit on the edge of cathedral rock to watch the sunset over the horizon.
Hiking in Page, Arizona:
Antelope Canyon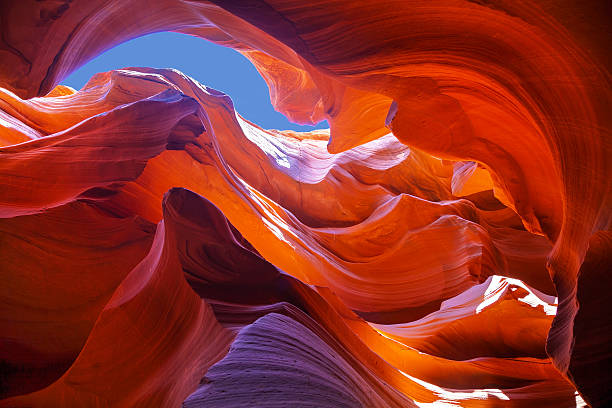 Antelope Canyon is about a .6-mile hike located in Page, Arizona that takes an average of one and a half hours to complete.
This canyon weaves through tall, gorgeous walls of pristine rock walls towering over you. Antelope Canyon is ranked as an easy hike to embark on. This canyon is on Navajo Nation land which means an approved tour guide is required.
Five companies offer approved tour guides for the upper canyon and only two offer guides for the lower canyon. Prices through these companies can cost anywhere from $50 to $100. In Antelope Canyon backpacks are prohibited when entering the canyon; however, cell phones, water, and cameras are permitted in the canyon.
The peak seasons to explore the beauty of Antelope Canyon are late spring and early fall. During May to September is when the famous light beams striking down into the canyon are visible which are perfect to plan your visit around.
Horseshoe Bend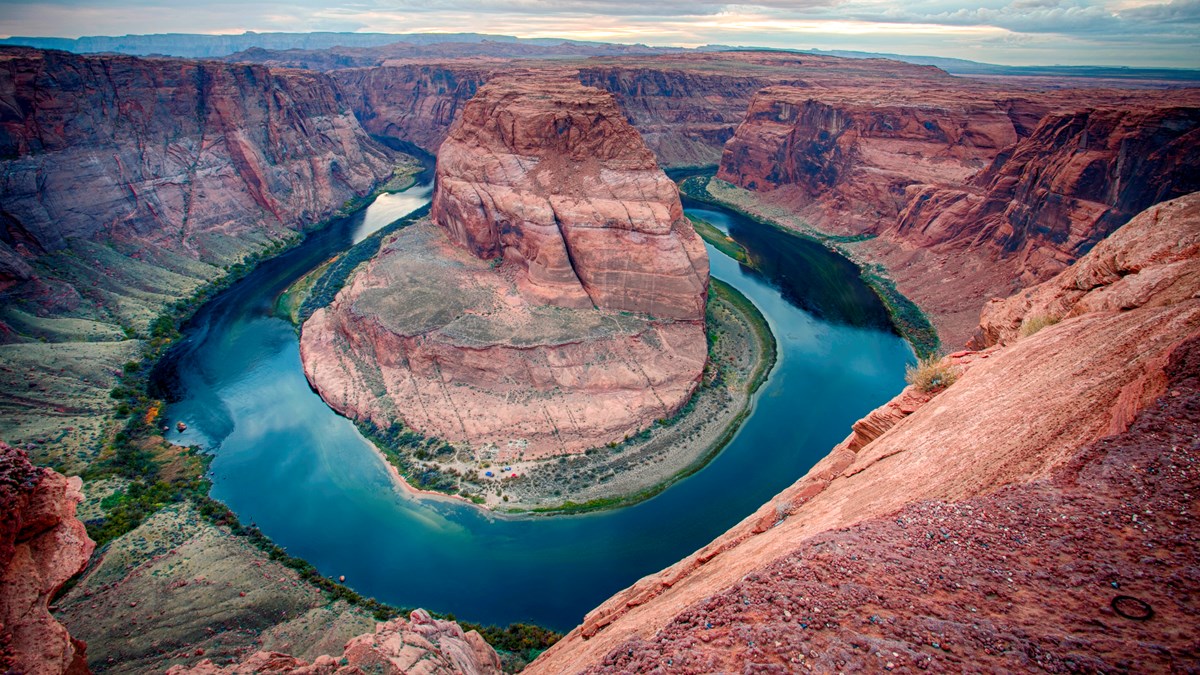 Horseshoe Bend is one of the biggest hiking attractions in Arizona located in the city of Page 125 miles North of Flagstaff.
The hike to the view of the beautiful Colorado River is about ¾ of a mile so the trip will only take about an hour and a half to two hours allotting for enough time to enjoy the scenery and take photos. A permit is not required to enter but there is a parking charge. Parking costs $10 per car, $5 per motorcycle, and buses cost anywhere from $35 to $140 depending on the number of passengers on board.
The trail is open year-round from sunrise to sunset. Most visitors begin their hike before noon to beat the afternoon heat or late afternoon to watch the sunset. Once you have finished your hike at the bend, head down to the recreation area where you can kayak Wahweap Marina or hike the trails of Lake Powell!
The Wave, Coyote Buttes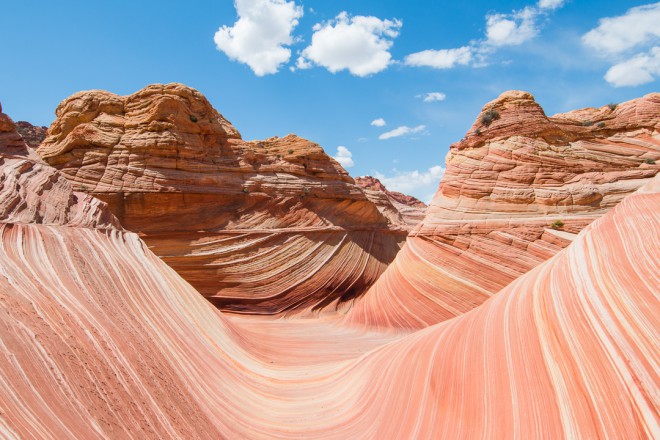 The Wave is a 6-mile hike that takes two to four hours to complete. This rare site is located on the Utah and Arizona border between Page, Arizona, and Kanab, Utah, and we consider this to be one of the most spectacular hikes in Arizona!
Only 64 people are lucky enough to hike through the waver per day. This is done to limit foot traffic in the area to keep the site as beautiful as possible for as long as possible. But a $7 permit is required for entrance that must be obtained months in advance.
This permit for The Wave can be obtained through the online Wave lottery which will cost a $9 nonrefundable fee. Through the online lottery 48, lucky people are selected to be awarded a permit to hike through The Wave. The remaining 16 people are selected from the in-person lottery. Furry friends are permitted on the side, but this will cost an additional $7 per day. They also must be with you the entire duration of your visit, and of course, it is required to clean up their waste.
Water is unavailable during the hike, so be sure to bring plenty for each person in your group. The trail throughout The Wave is not well marked along with no cell service. It is strongly recommended to bring a GPS or snag a map which you can get from the ranger's station along the trail.
Hiking in Scottsdale, Arizona:
Pinnacle Peak
Hiking in Arizona can provide some amazing experiences. Pinnacle Peak is a 1.7-mile hike located in Scottsdale that takes about two hours to complete. This trail is ranked as a moderate hike as there is a great elevation increase, but it doesn't happen all at once.
Pinnacle Peak is one of the best hikes in Arizona for wildlife lovers as it is home to Gila monsters, bobcats, javelinas, mule deer, and grey foxes.
There is no cost to hike here unlike many hiking attractions in Arizona. With free parking as well as restrooms at the trailhead, Pinnacle Peak is open on average from 6:45 am to 6:00 pm. Make note that the times the trail is open do vary depending on the season, so be sure to check online with the link here!
The park does have some unique rules such as no pets, smoking is prohibited everywhere in the park including the parking lot, parking is only permitted at the trailhead, and all hikers must exit the parking lot before closing times. Make sure to check their website for the full list of rules before visiting.
Echo Canyon, Camelback Mountain
Echo Canyon, located in Scottsdale, is a 1.2-mile hike that will take about two hours to complete. While this trail is a short distance it is ranked as a difficult hike for experts only.
Furry friends are prohibited while hiking through Echo Canyon. Like many other hiking areas around Arizona, parking is very limited and fills up quickly even early in the morning, so waking up dark and early may be required to snag a spot.
Crowds can always be avoided by visiting on weekends! Camelback Mountain coined its name from the appearance of a laying-down camel.
Not too far into the hike, there is a warning sign for bees in the area, look to the right and there is a small cave to explore that is easily overlooked!
While Echo Canyon is a strenuous hike, the way up will be all worth the while at the end. The trail leads you to the top of the summit which is the highest point in the area that overlooks a beautiful mountain range and the city lights at night.
Hiking in Phoenix, Arizona:
Hidden Valley, Mormon Loop Trail
Mormon Loop Trail is a 4-mile loop trail located in Phoenix, Arizona that averages about two hours to complete. This trail winding through Hidden Valley is ranked as moderate as there is a high elevation gain within the first mile, and then the trail flattens out a good bit from there.
Parking is available at the trailhead and there is no need to worry if the lot is full by the time you arrive; parking on either side of the road is permitted. Furry friends are welcome on the trail if they are kept on a leash for the duration of the hike.
Peak seasons to hike Mormon Loop Trail is during spring and fall, mostly because summer in Arizona is excruciatingly hot with temperatures upwards of 100 degrees. This trail is a super fun journey with lots of rock formations to hike through and around. Mormon Loop Trail also leads to Fat Man's Pass, another famous hike in Arizona.
Weavers Needle
Weavers Needle is located in Phoenix, Arizona and it is a beautiful 12-mile loop trail. You may also hear of the local legend which says that lost gold can be found at the peak of the needle's shadow. You should go take a look!
The hiking day will begin at the Peralta Trailhead which will then continue the loop for an average of eight hours. Weavers Needle is ranked as a moderate trail due to the length and steepness at times.
It's recommended that a helmet be worn while on the trail, as rocky debris is sometimes common and potentially dangerous for less experienced hikers.
Aravaipa Canyon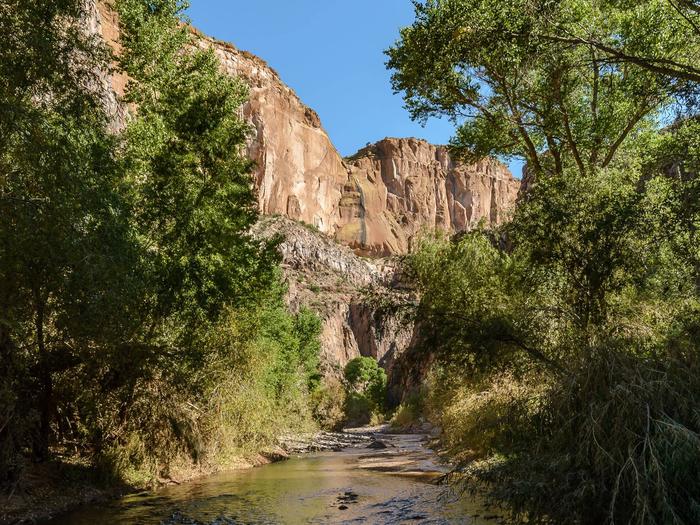 Aravaipa Canyon, located between Tucson and Phoenix, is 21.6-miles in length from one side of the canyon to the other.
Fully hiking Aravaipa Canyon takes about two to three days. The trail is ranked as difficult due to much of the trail being filled with water from the creek. Fully expect to be boulder hopping and to have wet feet!
A permit is required to enter the trail. This will cost $5 per day along with a $6 reservation fee per transaction. Aravaipa Canyon permits can be purchased online here.
Only 50 people are allowed on the site per day which means reservations will be limited. This also means your stay will be limited. However, it's one of the best hikes in Arizona if you don't want to deal with crowds as long as you reserve early.
Permits have a maximum of three days and two nights with parties no larger than ten. Unfortunately, pets are prohibited in Aravaipa Canyon.
Peak visiting months are March through May and October through November when the weather is not too cold to get wet as well as avoiding the extremely hot summer months. Aravaipa Canyon is highly recommended for wildlife lovers as it is home to deer, coyotes, hawks, turkeys, bears, and sheep.
This is by far one of my favorite Arizona hikes – you'll love it if you're up for some serious adventure.
Hiking Through the Havasupai Reservation:
Havasu Falls
Havasu Falls is a beautiful waterfall located on the Havasupai Reservation. The hike is about 10-miles in length from the entrance to Havasu Falls. Hiking through the Reservation is ranked as moderate as it is not too difficult, but it is too immersive for a beginner hiker to complete.
*Be prepared to spend a little money on this amazing experience.*
To visit any of the falls located inside the Havasupai Reservation a permit is required and must be purchased from their website. Permits to visit are available from February through November. These reservations can only be purchased for 3 nights costing $100 during the week and $125 during the weekend. This means tickets will cost about $300 to $375 per person.
There is a campsite on the reservation for hikers to set up their homes for the next three days. Mules can be rented for $400 to carry up to 32 pounds of camping equipment. Reserving a mule can be done when purchasing your permit.
Peak months to visit the reservation are May through September. Picking the best season to fit your desires is crucial. Spring is the perfect time to hike temperature-wise, but it may be too cool to swim in the pools of the falls. Early summer months are perfect temperatures for swimming, but with the warmth comes more bugs. Regardless, this is one of the best hikes in Arizona with swimming by far!
Choosing to visit during peak summer months can be risky as this is flashflood season. Cancelations are possible during flash flood season that will result in no refunds or rescheduling. Make sure to read the fine print when purchasing your permit!
This is by far one of the best hikes in Arizona with waterfalls. It seriously can't be missed!
Mooney Falls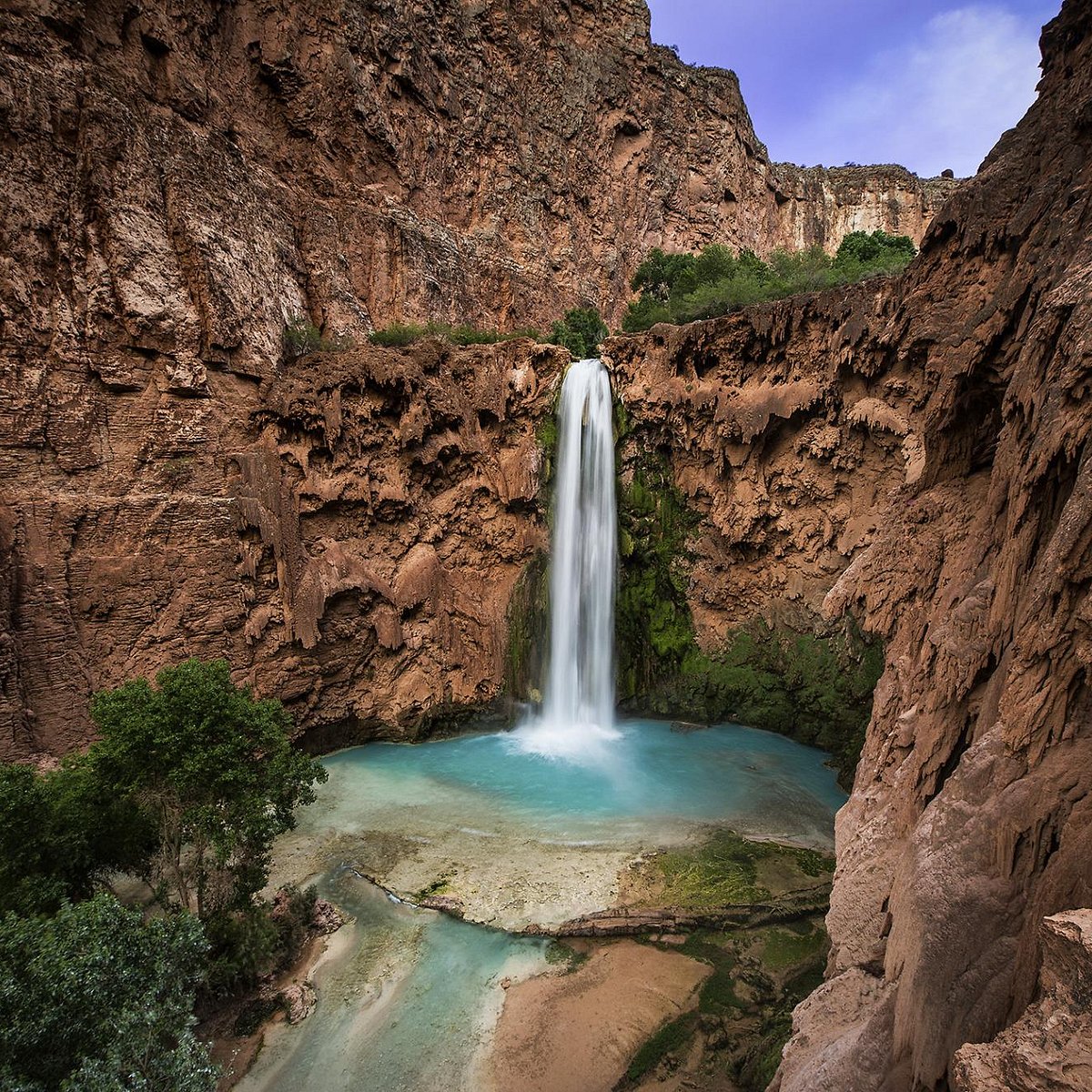 Mooney Falls is one of the more gorgeous Arizona hikes. Standing over 200-feet tall, this waterfall is located on the Havasupai Reservation and is the tallest waterfall you will encounter in the area.
This gorgeous waterfall is about a 1.5-mile hike from the Havasupai Reservation campground. The hike from the campground to Mooney Falls is one of the more difficult ones in Havasupai as you must hike through old mining routes down a slippery and steep cliffside. Mooney Falls was named after James Mooney in 1883 when he fell to his death trying to reach the bottom of the falls.
Since then, safety precautions have been made for hikers to get a thrilling experience down the cliffside while making it to the bottom to enjoy the beauty of the falls.
Beaver Falls
Beaver Falls is a series of small waterfalls that create gorgeous blue-green swimming pools over sandstone and limestone. From the campsite, the hike to Beaver Falls is 3-miles which will take about an hour and a half to two hours to complete.
The falls are the perfect place to cool off and relax for the day in the gorgeous pool, or if you are looking for an adrenaline rush, cliff jumping is also common here. This is definitely one of the most gorgeous hikes in Arizona with waterfalls (multiple) that you won't want to miss.
Hiking Through Arizona:
Robbers Roost
Hiking in Arizona provides outstanding experiences for any adventurer. Robbers Roost is a hidden gem located in Clarksdale, Arizona that can do just that! This trail is 3.6-miles in length and takes an average of one to three hours to complete.
Robber Roost is ranked as easy to moderate as there are a few steep points, so it is perfect for beginners looking for a bigger challenge. Since this is a hidden gem, this is not a heavily trafficked trail, so you may have it all to yourself!
There is a large cave to explore on the trail. The cave entrance lays on a steep edge, so continue with extreme caution, and do not attempt to enter after a rainstorm. From inside the cave, you will have breathtaking views of surrounding mountain ranges and the world below.
Wildcat Trail
Wildcat Trail is a 1.6-mile hike located in the Oljato-Monument Valley, and it is considered to be one of the best Arizona hikes. The trail will take on average about two hours to complete.
This trail is ranked as easy, so it's perfect for beginner hikers! Wildcat Trail itself is free to hike, but to enter Monument Valley Navajo Tribal Park there is a fee. This will cost $20 per vehicle of up to four passengers or will cost $10 per walk-in, motorcycle, or bicycle.
Wildcat Trail is the only hiking location in Monument Valley that does not require a tour guide. The trail is open to hiking before 11 am and after 5 pm and closed in the afternoon to protect hikers from the midday heat.
Pro tip: If you're planning on hiking in Arizona then you should definitely get where you're going early regardless of the trail!
Bob Bear Trail
Bob Bear Trail, formally known as Fossil Springs, is in Strawberry, Arizona.
This hike is 4-miles one way that should have an entire day set aside for it to spend the day in the swimming hole. Bob Bear Trail is rated as a moderate hike.
A permit is required only from April 1st to October 1st which will cost $6 per vehicle. From October 2nd to March 31st a permit is not required, so enjoy hiking for free!
While swimming in the gorgeous blue swimming hole with a waterfall flowing into it, be sure to find the cave near the waterfall.
Wolf Creek
Wolf Creek, located in Prescott, Arizona, is a 1.8-mile hike that takes about an hour to an hour and a half to complete.
The trail is rated as a moderate hike that is kid-friendly. It's a great spot for hiking in Arizona that appeals to everyone.
Parking can be found at Groom Creek Trailhead or along the side of upper Wolf Creek Road. Parking fills up quickly, so be sure to get there bright and early. Along the trail of Wolf Creek, the waterfalls are most beautiful after a good rain.
Cibecue Falls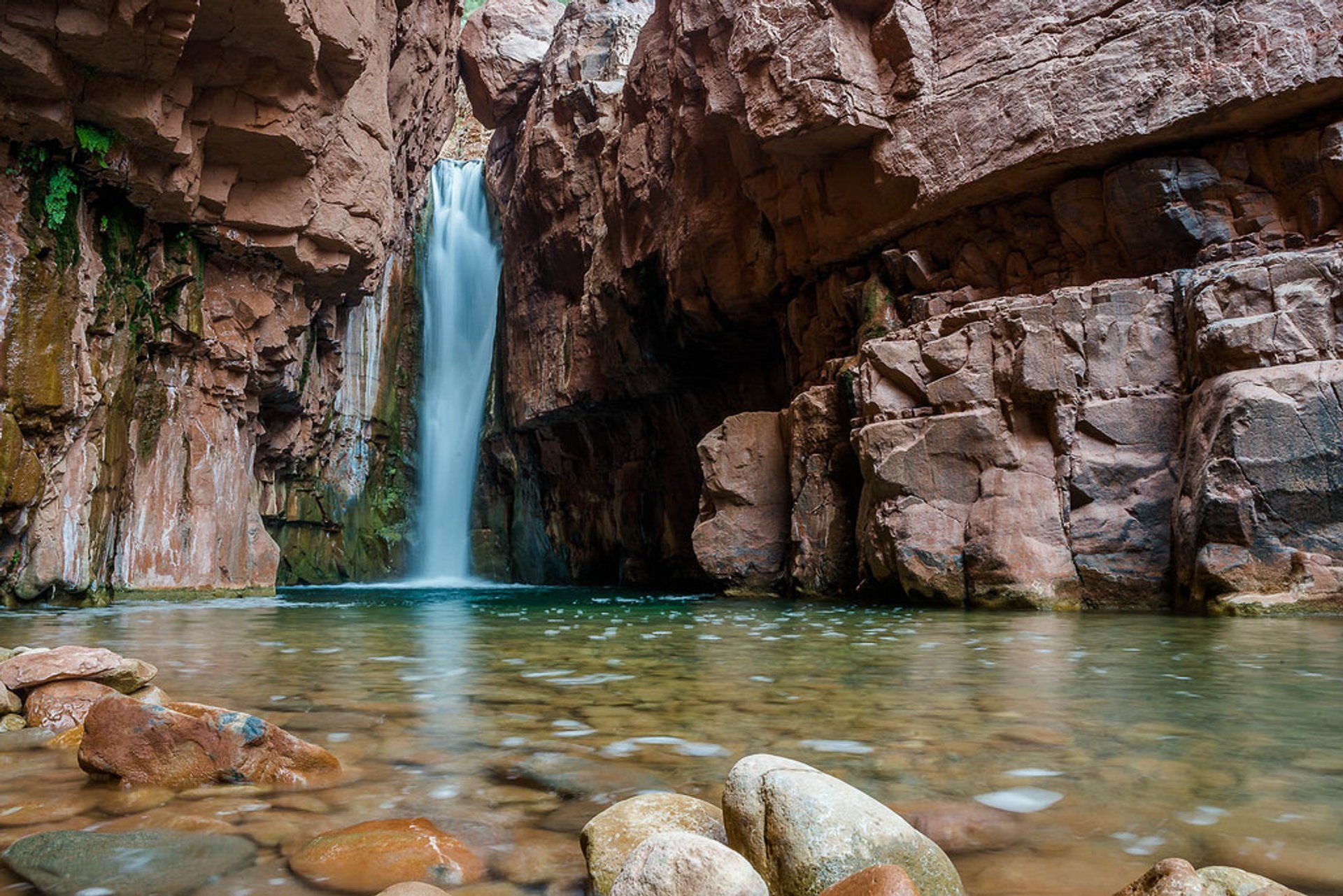 Cibecue Falls, located in Whiteriver, Arizona, is a 2-mile hike to the base of the falls. The trail to Cibecue Falls is rated as a moderate hike as it is mostly flat but covered in flowing water.
A permit is required costing $30 per person that must be purchased online. This permit will also grant you access to Apache Falls and allow you to camp in one of the Salt River Campgrounds.
Peak months to visit Cibecue Falls are May to September. The trail often closes during monsoon season due to flash floods, so be sure to plan your trip around this.
There are no restrooms available throughout the trail and picking up human waste is required on the trail. Be sure to go to the restroom before you arrive!
On the way up to parking for Cibecue Falls, there is often a vendor selling Navaho Bread for $5. Be sure to grab yourself a snack before your 4-mile roundtrip hike.
What To Pack While Hiking In Arizona:
Bags for waste
Extra pair of clothes (ya never know!)
First Aid kit
Good sturdy possibly waterproof hiking boots
Hydration additives
Plenty of water

One liter of water per person per two hours is recommended.
Many Arizona hiking locations do not have water available so always bring enough just to be safe.

Sun Protection
Toilet paper or wipes
Arizona offers hundreds of beautiful hiking opportunities throughout the state for beginners as well as experts. When hiking in Arizona be sure to follow Leave No Trace.
The seven principles for Leave No Trace are: plan & prepare, travel & camp on durable surfaces, dispose of waste properly, leave what you find, minimize campfire impacts, respect wildlife, and be considerate of other visitors. Other than that, enjoy the Arizona hikes and try out as many spots as you can.
Hikers, have fun, and be safe!