Hiking Flume Gorge In New Hampshire: The Ultimate Guide
Are you hiking the infamous Flume Gorge in New Hampshire to get a look at one of the most beautiful waterfalls in New England? This ultimate guide will cover absolutely everything you need to know for an awesome day!
New Hampshire is definitely one of my favorite states in the US because the nature and views are just gorgeous. To be totally fair, this state is stunning during all seasons, but I especially love the summers because we get to hike to some of the coolest spots.
This last summer, we revisited Flume Gorge, one of our favorite hikes/waterfalls in New Hampshire. And let me tell you: this waterfall is not to be missed!
This was my third time visiting the Flume Gorge in New Hampshire as a fully grown adult (though it was a favorite of mine during college) and it honestly gets better every time I see it.
The views are gorgeous and it's a great workout. The hike is easy but still feels like you're doing something cool and dangerous.
Flume Gorge is a natural wonder located in the Lincoln, NH area. This 800-foot gorge is packed with stunning waterfalls, making it the perfect destination for a day of sightseeing. If you're visiting New Hampshire for the first time (or even if you're a seasoned local), Flume Gorge is a must-see, offering historic covered bridges, cascading waterfalls, and an 800 ft-long gorge.
I've put together this guide to provide some detailed information that comes from firsthand experience. I hope this helps you enjoy your trip and get the most out of visiting the beautiful Flume Gorge!
If you're planning to hike, I recommend getting the AllTrails app or heading to the site for the most updated hiking info.
What Is Flume Gorge In New Hampshire?
Flume is a narrow gorge covered with moss and towering granite walls. It's insanely tall (over 90 feet in some places) and narrow, creating really dramatic views. It's basically New Hampshire's equivalent of a crater and is actually prehistoric!
Visitor boardwalks provide access to the narrowest sections of the gorge, which contain waterfalls, boulders, and pools.
Additionally, Flume Gorge offers two charming covered bridges, sections of tranquil forest trail, and incredible observation decks/viewpoints to check out the mountains.
You don't have to be a mountaineer to enjoy Flume Gorge's 2-mile loop. Just make sure to arrive early to avoid foot traffic, especially in the narrow gorge section.
When To Visit Flume Gorge:
If you want to see seriously dramatic waterfalls then consider visiting Flume Gorge during the spring or summer. Sometimes, the waterfalls dry up in the late summer/early autumn so you won't get the full effect.
However, you can see great waterfalls depending on the rainfall. I recommend that you do some research if you really want to visit later in the year. We've been once in the autumn and the waterfall was still pretty mind-blowing!
While the falls are usually better in the earlier months, you may want to hike the trail during the fall to see the foliage. Once the leaves start turning the observation points are much more dramatic, especially once you've passed the waterfall area.
So it really depends on what you want to see. Are you more excited to check out insane waterfalls? Go in the spring/early summer. Want to see gorgeous New England foliage? Your best bet is to visit Flume Gorge in the fall.
While you technically can visit NH's Flume Gorge in the winter (it's open all year), I would recommend against it. There's no staff on-site and the climb is at your own risk. And trust me: the stairs are slippery enough in the summer!
The flume gorge is open from May 10th to October 20th with staff. You definitely wouldn't want to go in the winter anyways; those stairs would be insanely slippery.
5/10-6/30 8:30am-5pm
7/1-9/2 8:30am-5:30pm
9/3-10/20 8:30am-5pm
Around 1pm was the perfect time for us to arrive. The midday heat wasn't a problem since the day was slightly cooler (high 70s).
Tickets & Prices: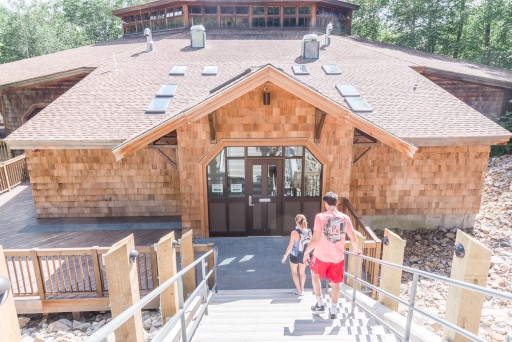 As of right now, the ticket prices are:
Ages 13+: $18
Ages 6-12: $16
5 & Under: FREE w/ paid adult.
* All rates and dates are subject to change.
BTW, pets aren't allowed in the Flume Gorge (past the ticket desk) but are allowed in nearby parks.
You'll need to reserve tickets ahead of time, at least right now, through the New Hampshire State Parks.
If you don't reserve tickets you may not be able to enter. They're pretty strict due to the last few years, so you can't just show up anymore. Make sure you book ahead since peak season fills up really quickly!
Flume Gorge Directions & Parking:
Flume Gorge is located near Lincoln, New Hampshire, along the Daniel Webster Highway.
It is located only 6 miles from nearby Artists Bluff, as well as 7 miles from the beginning and end of Kancamagus Highway.
Flume Gorge is really easy to find (it's right off I-93). There's plenty of parking available right outside the visitor center.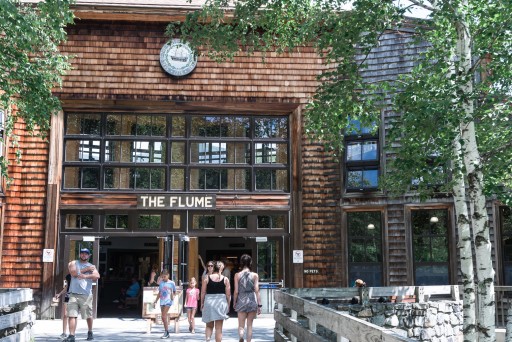 Flume Gorge is a beautiful and popular spot in the White Mountain National Forest. During the weekends, it can get quite crowded, so try going on the early or later end.
12pm is the worst time to try and park because it's when all the families from the morning and the afternoon are hiking the trails. Ticket lines can also be longish on the weekends, so plan to wait for a bit.
You'll need to go through the visitor center before beginning your hike. The Flume Gorge Visitor Center has a cafe that sells snacks and ice cream, a gift shop, an information center, and a variety of displays from the 1800's that are fun to check out.
There are also (super clean) bathrooms available that you'll need to hit before you actually go through the ticket line. Once you purchase tickets you're through the center, so do all of your sightseeing before joining the ticket line.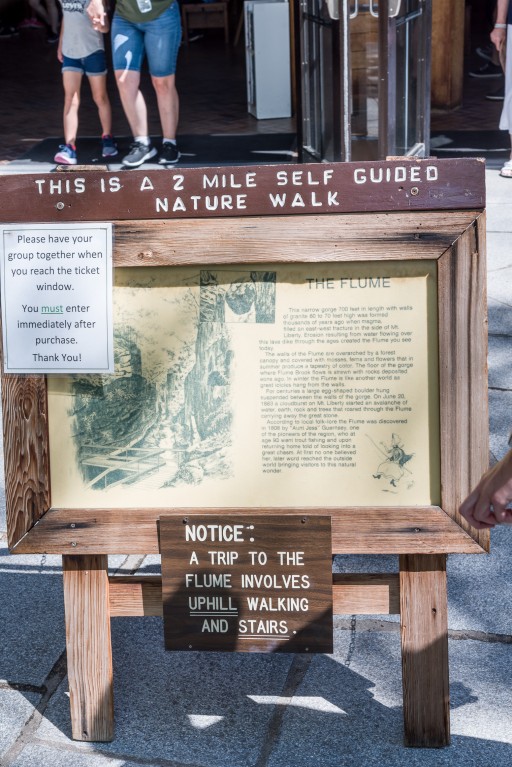 Distance: 2 miles
Elevation: 500 ft gain
Hike Type: Loop
Hike Time: 1.5 – 2 hours
Dogs/Pets: Not permitted
This is an easy loop hike – you go up the Gorge and then around, so your main views are towards the beginning of the hike.
First, it'll look like you're simply hiking a regular mountain with only a few small streams like this one.
Check out more about the hike here.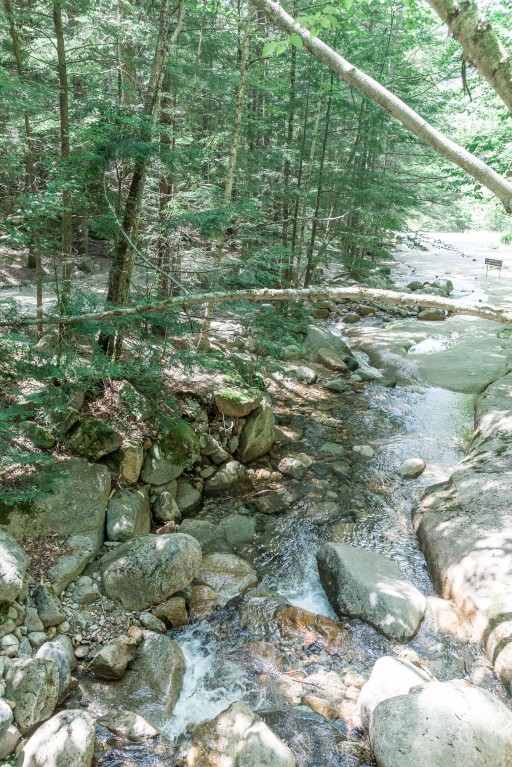 The loop that leads to Flume Gorge NH isn't really a hike since it's not long. Flume trail has a total distance of about 2 miles and a lot of the trek is uphill, though it isn't long enough to feel like a workout.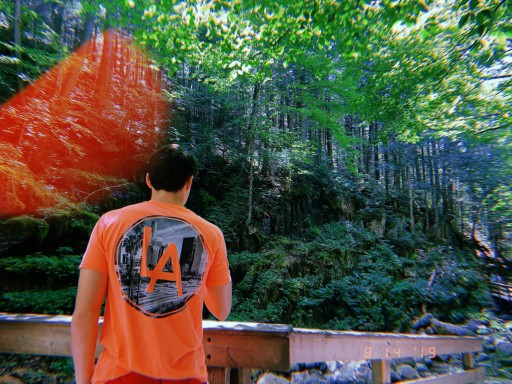 A lot of young kids made the trip on their own (without being carried). The hike would be difficult for anyone with a disability since the entire walk by the waterfall is wooded stairs. The hike is also not stroller-friendly.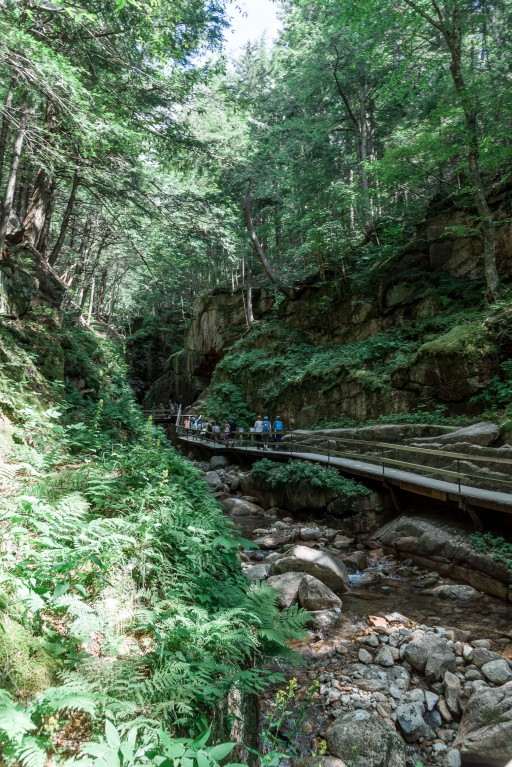 Along the way, there are so many picturesque photo spots! Before you reach the falls, you'll begin to hike uphill. At some point, you'll start walking on wooden boards, then you'll reach the wooden stairs. This is the main part of the falls where you'll have the best views.
Watch out – the stairs get really slippery! I recommend treading carefully since the rapids and falls are extremely strong right below the staircase.
But I promise you, it's totally worth it, even if you're scared of heights. FYI, the boards are inspected yearly and look brand new – they're completely safe to walk on.
I really enjoyed the hike. It felt much more rural than other hikes in the area, and we saw a lot of critters (luckily, no bears!). You definitely feel like you're actually in the wilderness, even if there are a lot of people around during the weekends.
Once you see the falls, you'll continue with the rest of the loop to come back down. The elevation goes up really quickly (though it's only about 500 feet) and the waterfall views are all in the beginning, then you have the rest of the hike to check out the mountainous scenery. It's a bit more leisurely after you get off the stairs.
The Flume Gorge New Hampshire Falls
You'll start to see the falls once you walk past Table Rock (a massive granite structure from the last ice age).
The narrow path grows much narrower after the first part of the hike, and the walls on either side grow much taller. Right away, you may feel mist. In comparison to the temperature outside near the lodge, this part of the walk was insanely cool!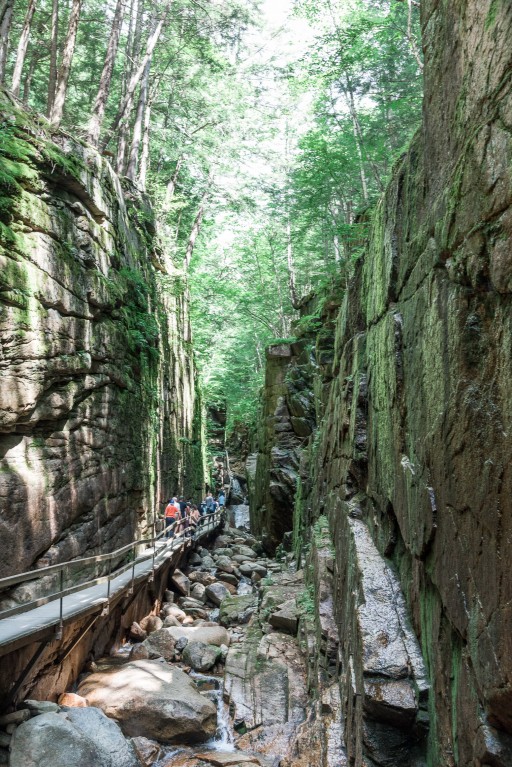 One huge piece of advice for anyone who wants to take photos (like me) is to hold on to your phone! Since I've lost my phone more times than I can count, this seemed like a perfect opportunity, especially while leaning over the railing to take photos.
For those of you who use professional cameras, you'll definitely want to invest in some water-resistant equipment before seeing the Flume Gorge. There's literally no avoiding the massive amounts of mist during this part of the climb
As you climb the stairs, you will see the largest part of the Flume (Avalanche Falls is 45 feet high!). It was cool to almost literally be a part of the falls while climbing the stairs, but I wish I had more time to stop and see it. If you go when the walk is busy then you'll have to keep moving along during this part. Just another reason to try and see the Flume during the week!
Once you get to the top and go around the corner, the views aren't as great, but you'll be able to check out some of the smaller streams and waterfalls at your leisure – you can stop as much as you'd like.
There's also an observation deck right around the corner that we spent a few minutes on. You can't really see the falls from the observation deck (strangely enough) but the sounds and atmosphere are just so cool.
I recommend that you get a look as much as possible while you're climbing the stairs because that's definitely the best view of the falls. You can't go back down after, so you may be disappointed if you hurry through and realize that was the main event.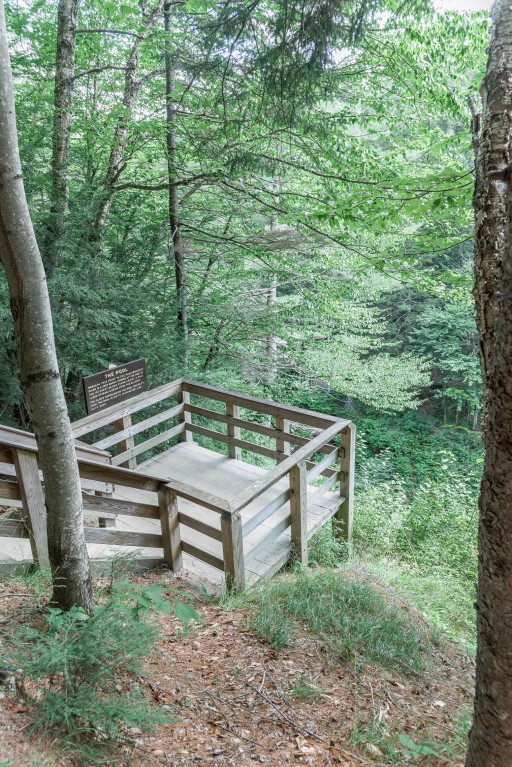 Once you start to walk back, you'll see the Liberty Gorge Cascade. These falls are smaller but do offer the opportunity to sit and observe the water. They're really beautiful to see from above!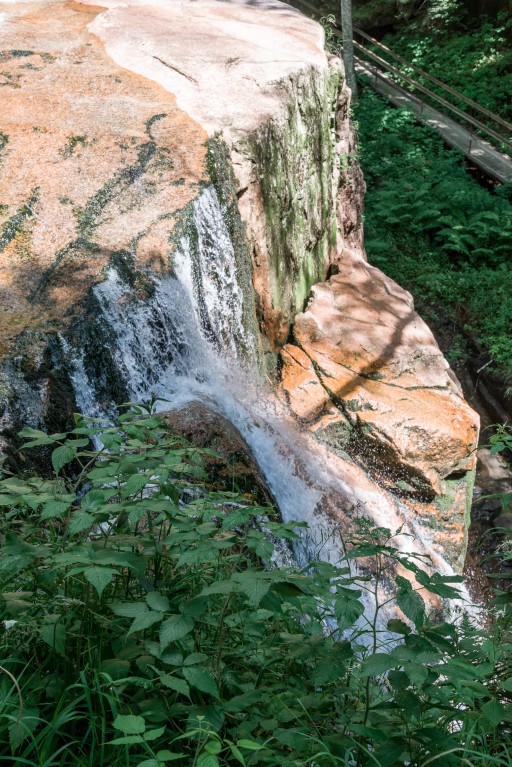 There are also some great spots to grab a group photo up near the observation deck. Seriously – the views of the mountains are insanely gorgeous!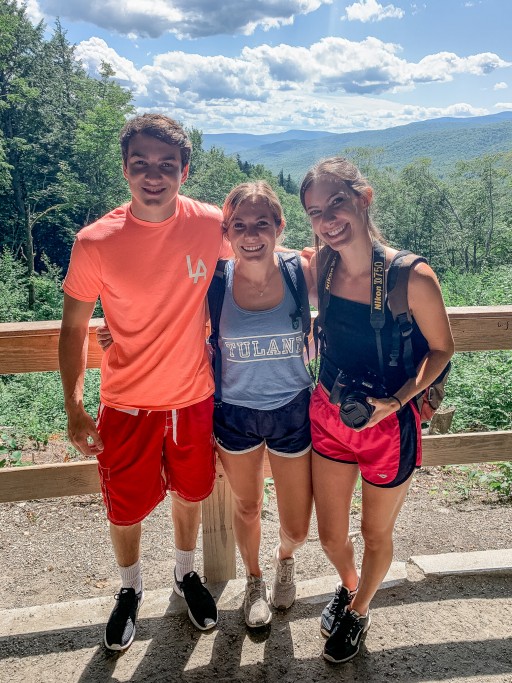 The Pool
If you continue along the Flume trail after visiting the falls, you will be able to see the pool from hundreds of feet above.
It is surrounded by massive cliffs (which you'll be standing on) and can reach a depth of 40 feet in some places! This pool was created during the Ice Age and is extremely cold (not that we've ever swum in it).
Since you are so high up, this is a small area with some cool views. If you are looking to take a break from the sun, this area is a great place to hang out.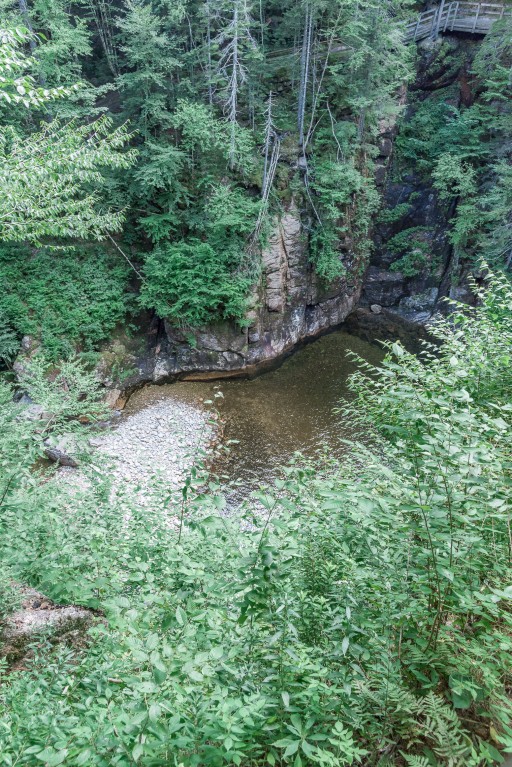 The Covered Bridge
What New Englander doesn't love a good old covered bridge? Flume Gorge has two gorgeous covered bridges. The largest red bridge can even accommodate large trucks and buses!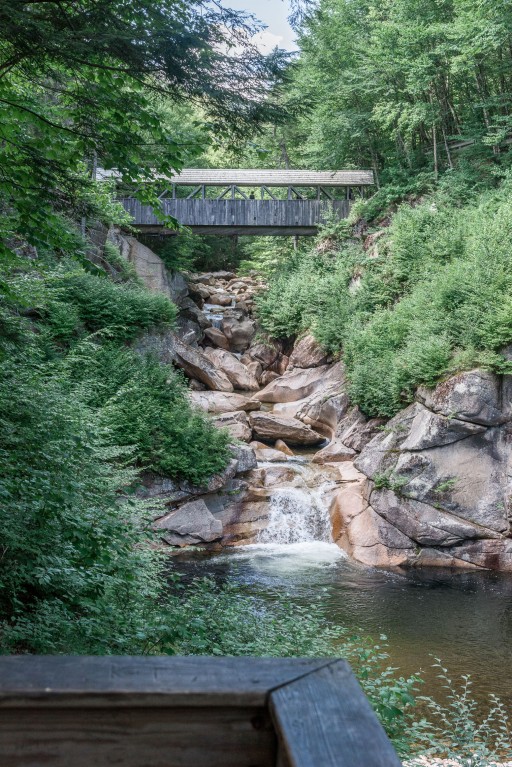 We also enjoyed seeing the smaller covered bridge. It's only for foot traffic and is walkable, or you can choose to find this observation point (also on the loop) and take photos.
Don't worry about missing anything – you'll come across every interesting point on the loop! It's super self-explanatory once you get past the falls.
The Wolf & Bear Dens
As soon as you reach the top of the stairs, you'll find the bear den. If it isn't too crowded, it is actually pretty cool to check out, especially because you can hear the waterfall right behind you. This used to be a bear den, but it's now more of a tourist attraction.
You'll come across a wolf den later on during your hike (after crossing the covered bridge). Checking it out is more challenging. While most of it can be walked through, at some point you will need to crawl on your hands and knees.
You can continue on the path around the wolf den to meet up with your group if you don't like tight spaces. I highly recommend checking it out if you aren't claustrophobic: it was really cool!
The Shuttle
If you do not want to hike the Flume trail the entire way up, you can take a shuttle up part of the way to see the waterfall. Keep in mind that you will still need to climb the stairs – nothing can be done about it.
If you need to, you can skip the beginning and end of the hike with the shuttle. Although we didn't take it, it would be a great idea for those with trouble traveling or for families with young children.
Where to Swim:
There are very strict rules about not swimming during the 2-mile loop, and for good reason: the rapids are insane! There isn't a good spot for swimming during the self-guided tour, which is why the signs were up. So no, you can't swim at Flume Gorge (sadly).
But, there are lots of great swimming spots right near this area! After driving across the street we found a swimming spot literally right off the road in the Basin. Parking is easy (it's right off the highway) and you only have to walk about 20 yards to get to the swimming hole.
Remember that the water is freezing! Taking a quick dip in this clean and refreshing body of water on a hot day is definitely worth the trip, even if you don't plan to stay in it for a long time. Plus, it's good for your hair!
Here are our two favorite spots for swimming near Flume Gorge in New Hampshire:
The Basin:
A large pothole of the Pemigewasset River, The Basin is located in Franconia Notch State Park. It measures 30 feet wide and 15 feet deep. Henry David Thoreau stood in 1839 watching the water cascade into the pool created over 25,000 years ago, when glaciers melted during the last Ice Age.
The swimming hole that's adjacent to the Basin can now be accessed by a short hike (really more like a few yards). During a hot summer day, the water is always clear and refreshing.
You can park right across the street from Flume Gorge and walk out to the Basin. This is our favorite little swimming spot in the afternoons because it's usually very private. 

Georgiana Falls:
Lincoln's Georgiaiana Falls is a little-known hiking and swimming hole near Hanson Farm Road. 1.6 miles of dirt trails surround this relatively easy hike.
At the base of the 30-foot waterfall, you'll find a cool swimming hole. In the middle of the summer, the water might not be deep enough to actually go swimming, but it's perfect for dipping your feet in while enjoying a picnic in the park.
History of Flume Gorge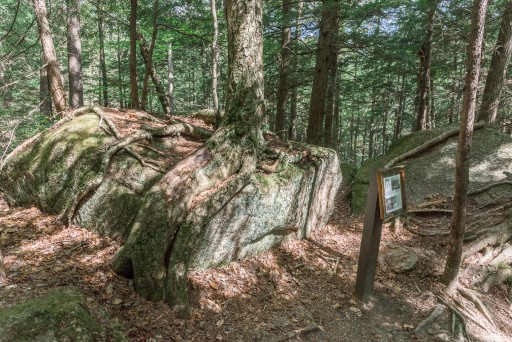 Aunt Jess Guernsey discovered the Flume Gorge in 1808 (apparently she was there with her nieces and nephews), but it was actually formed around 200 million years ago during the Jurassic Period.
During the formation of the Gorge, the rocks were molten and liquid, but hardened and eroded over time to form the Gorge. Today, the Gorge is still getting deeper.
Despite its creation of the Pool and Table Rock, the Ice Age did little to alter the Gorge itself.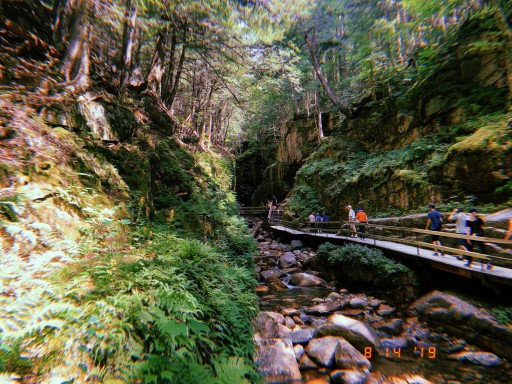 FAQs About Hiking The Flume Gorge in NH: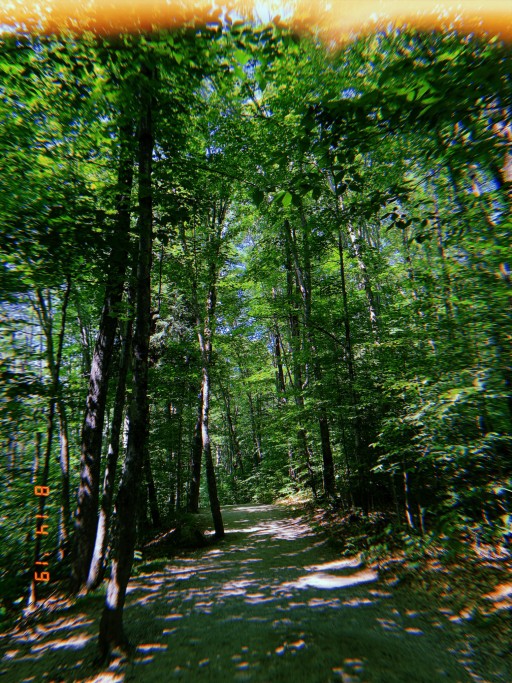 What are the hiking trails available at Flume Gorge Basin?
Flume Gorge Basin offers several hiking trails that allow visitors to explore the beautiful natural surroundings. Here are the main hiking trails available at Flume Gorge Basin in New Hampshire:
Flume Gorge Trail: This is the main and most popular trail at Flume Gorge Basin. It's a 2-mile loop trail that takes you through the stunning Flume Gorge, where you'll encounter wooden walkways, waterfalls, and scenic views. The trail is well-maintained and suitable for most fitness levels.
Liberty Gorge Trail: This trail is an extension of the Flume Gorge Trail and adds an extra half-mile loop. It offers a less crowded experience and takes you deeper into the forest, providing a peaceful and serene atmosphere.
Poolside Trail: This trail is a short, easy loop trail that branches off from the Flume Gorge Trail. It leads to a tranquil pool surrounded by trees and is a great spot to rest and enjoy the natural surroundings.
Rim Path Trail: The Rim Path Trail is a one-way trail that runs parallel to the Flume Gorge Trail and offers a different perspective of the gorge. It provides elevated views and connects back to the main trail.
It's important to note that the Flume Gorge Trail is the primary trail for experiencing the gorge's beauty, while the other trails provide additional options for exploration and variation in the hiking experience.
How long does it take to complete the hike at Flume Gorge Basin?
The time it takes to complete the hike at Flume Gorge Basin can vary depending on individual walking pace, the amount of time spent exploring and taking in the scenery, and the trail chosen. Here are some general estimates for completing the main Flume Gorge Trail:
Flume Gorge Trail: The 2-mile loop trail typically takes around 1.5 to 2 hours to complete at a leisurely pace, allowing time to enjoy the gorge, waterfalls, and other points of interest along the way.
If you choose to extend your hike by including the Liberty Gorge Trail or the Poolside Trail, you can expect to add an additional 15-30 minutes, depending on your pace and the time spent at each location.
It's always a good idea to plan extra time for breaks, photography, and exploration to fully enjoy the natural beauty of Flume Gorge Basin.
What is the best time of year to hike Flume Gorge Basin?
The best time of year to hike Flume Gorge Basin in New Hampshire depends on your preferences and the kind of experience you are seeking. Here are some considerations for each season:
Spring (March to May): Spring offers mild temperatures and blooming vegetation. The trails may be less crowded during weekdays. However, some parts of the trail may have snow or ice remnants in early spring, so it's important to check trail conditions before heading out. I recommend hiking in late spring.
Summer (June to August): Summer is the peak tourist season for Flume Gorge Basin. The weather is generally warm, and the trails are typically clear. However, this also means more visitors, especially on weekends and holidays. Consider visiting on weekdays or early in the morning to avoid crowds.
Fall (September to November): Fall is a particularly popular time to visit Flume Gorge Basin due to the stunning foliage. The surrounding forests transform into vibrant shades of red, orange, and yellow. The weather tends to be cooler, and the trails can be less crowded, especially during weekdays.
Winter (December to February): Flume Gorge Basin may have limited accessibility or be closed during the winter months. Heavy snowfall and icy conditions can make the trails hazardous. However, if you're an experienced winter hiker and the trails are open, you can enjoy a serene and picturesque winter landscape.
Overall, the most crowded times at Flume Gorge Basin are during weekends and the summer months. If you prefer quieter experiences, visit on weekdays, early mornings, or during the shoulder seasons of spring and fall.
Can I bring food or drinks on the hiking trails at Flume Gorge Basin?
Yes, you can bring food and drinks with you on the hiking trails at Flume Gorge Basin. While there are no specific restrictions mentioned regarding outside food or beverages, I recommend being mindful and only bringing an amount that's comfortable to carry.
With that being said, I also highly recommend packing lots of water and some protein-dense snacks!
Can I take photographs during the hike at Flume Gorge Basin?
Yes, you are generally allowed to take photographs during your hike at Flume Gorge Basin. Photography is a popular activity, as the area offers beautiful natural landscapes, waterfalls, and the iconic Flume Gorge itself. You can capture memories of your visit and enjoy the scenic views.
What Should I Wear To Flume Gorge in NH?
The classic New Hampshire hiking look is definitely athletic gear. You'll want to wear cute athletic shorts, a good top, and bring plenty of layers. You'll also see plenty of people wearing baseball hats.
As far as brands go, Patagonia is the it brand here. You'll also see plenty of Nike and Adidas sneakers. You want to rock the serious hiking look if you want to look like a local. Don't forget a nice pair of sunglasses!
Are there any nearby attractions or points of interest to explore after hiking at Flume Gorge Basin?
There are several nearby attractions and points of interest to explore after hiking at Flume Gorge Basin in New Hampshire. Here are a few of my favorite spots:
Franconia Notch State Park: Located adjacent to Flume Gorge Basin, Franconia Notch State Park offers a range of attractions. You can visit Echo Lake for swimming and picnicking, take a scenic drive along the Franconia Notch Parkway, hike the popular trails of Mount Pemigewasset (Indian Head), or hike Mount Lafayette.
Cannon Mountain Aerial Tramway: Ride the Cannon Mountain Aerial Tramway, located within Franconia Notch State Park, for breathtaking panoramic views of the White Mountains. At the summit, you can explore observation decks, hiking trails, and enjoy a meal at the summit restaurant.
The Lost River Gorge and Boulder Caves: Just a short drive from Flume Gorge Basin, you'll find the Lost River Gorge and Boulder Caves. Explore a network of boardwalks and caves that wind through a gorge, offering opportunities to observe unique geological features and natural beauty.
Explore the Shops and Cafés of Lincoln: The town of Lincoln, located near Flume Gorge, has a charming downtown area with a variety of shops, boutiques, and cafés. Take a leisurely stroll, browse through unique shops, and stop for a cup of coffee or a snack at one of the local cafés. Click here to check out some of our favorite restaurants in Lincoln!
Relax by the Pemigewasset River: Find a peaceful spot by the Pemigewasset River, which flows through Franconia Notch State Park. Bring a blanket or a folding chair, sit by the riverbank, and enjoy the tranquil sounds of flowing water. It's a great way to unwind and connect with nature.
Visit a Local Brewery or Winery: If you're interested in craft beer or local wines, you can check out some of the breweries and wineries in the area. Relax with a pint of locally brewed beer or sample wines made from locally grown grapes while enjoying the laid-back atmosphere. Our favorites include Woodstock Inn Brewery, One Love Brewery, Seven Birches Winery, and White Mountain Winery.
Mount Washington: For those seeking a more challenging hiking experience, consider venturing to Mount Washington, the highest peak in the northeastern United States. The mountain offers various trails of different difficulties, including the famous Tuckerman Ravine Trail. Alternatively, you can drive up the scenic Mount Washington Auto Road or take the historic Mount Washington Cog Railway to reach the summit.
White Mountain National Forest: The White Mountain National Forest is a vast area with numerous hiking trails, scenic drives, and outdoor recreational opportunities. Explore the pristine wilderness, visit picturesque waterfalls like Sabbaday Falls or Arethusa Falls, or enjoy activities such as camping, fishing, or wildlife watching.
Enjoy Scenic Drives: The White Mountains region offers scenic drives with stunning views. Consider driving along the Kancamagus Highway (NH Route 112) or the Franconia Notch Parkway. These routes showcase breathtaking vistas, foliage (in the fall), and picturesque landscapes, allowing you to relax and take in the beauty of the area.
Are there any accommodations or camping options available near Flume Gorge Basin?
There are plenty of places to stay! While this area is more remote, it's still geared towards tourism, especially in the summer.
Campgrounds: There are several campgrounds in the area where you can pitch a tent or park an RV, including Lafayette Place Campground and Cannon RV Park. These campgrounds provide facilities such as restrooms, showers, and picnic areas.
Lodges and Resorts: If you prefer a more comfortable stay, there are lodges and resorts in the vicinity of Flume Gorge. Examples include The Franconia Inn, Indian Head Resort, and Woodwards Resort, which offer a range of amenities such as comfortable rooms, dining options, and recreational activities.
Vacation Rentals: There are vacation rentals available in the nearby towns of Lincoln and Franconia, which offer options for cozy cabins, chalets, or condominiums. Websites like Airbnb and VRBO can help you find suitable accommodations in the area.
Hotels and Motels: Various hotels and motels are located within a short distance from Flume Gorge Basin. Options include The Franconia Notch Motel, Days Inn by Wyndham Lincoln, and The Lodge at Lincoln Station. These establishments offer comfortable rooms and convenient access to the hiking trails.
Make reservations in advance, especially during peak tourist seasons, to ensure availability.